Leveraging the latest "Unified BSP" for Texas Instruments (TI) Cortex
TM
-A8 MPUs,
Adeneo Embedded supports the BeagleBone community with Windows Embedded Compact 7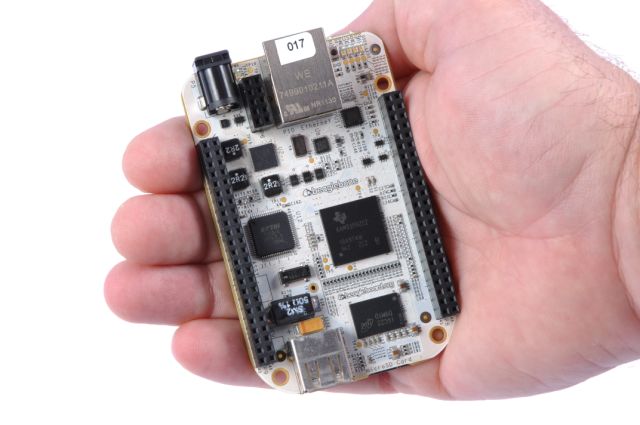 Ecully, France and Bellevue, WA, June 5, 2012
-
Adeneo Embedded, a platinum member of the Texas Instruments Design Network, and a Microsoft Windows Embedded Gold Partner and recipient of the "Windows Embedded Excellence Award" from 2007 through 2011, announces the availability of Windows Embedded Compact 7 reference board support packages (BSPs), along with a full suite of support services, including customized support, training and development services, for the SitaraTM AM335x ARM® CortexTM-A8 processor-based community board, the BeagleBone.
BeagleBone is

a low-cost, high-expansion board that can either works stand-alone or acts as a USB or Ethernet connected expansion companion for BeagleBoard and BeagleBoard-xM boards, based on 720MHz SitaraTM MPU AM3359 with 256MB DDR2 memory.
BeagleBone BSP developed by Adeneo Embedded is based on the latest version of the Texas Instruments "unified BSP" for Windows Embedded Compact 7 which supports TI ARM® CortexTM-A8 devices, including OMAP35x, AM335x, AM35x, AM37x, AM387x SitaraTM ARM® MPUs and DaVinci DM37x and DM816x video processors. Through a strategic collaboration between TI and Adeneo Embedded, this unified BSP is available from Adeneo Embedded website since February 2012.
Windows Embedded Compact 7 provides developers, designers and original equipment manufacturers (OEMs) with a powerful real-time OS and a full suite of development tools, enabling an integrated, streamlined development experience to speed devices to market.
The Sitara AM335x platform used on the BeagleBone is a cost and performance optimized solution targeting
portable, pocket-sized applications. Starting at $5 and consuming as low as 7 mW of power, the AM335x
ARM® CortexTM-A8
processors provide low power consumption while prolonging battery life and reducing heat emissions. Developers have access to a high performance processor with advanced 3D graphics capabilities, touch screen controller and sophisticated peripherals all on a single chip
.
"Releasing this new BSP for the BeagleBone community board highlights our commitment to Texas Instruments and Microsoft to support OEMs from early prototyping to shipment of their devices," said Yannick Chammings, chief executive officer, Adeneo Embedded. "Our 'community board' strategy was initiated with the release of Windows Embedded Compact 7 BSP for BeagleBoard xM. With the availability of the BSP for BeagleBone, customers can now evaluate Windows Embedded Compact 7 on the whole scope of development platforms available for TI MPUs, covering prototyping, early evaluation, as well as industrial development stages."
"Texas Instruments is excited to have Adeneo Embedded's support of the BeagleBoard community with a BeagleBone-based Windows Embedded Compact 7 BSP,"
said Thomas Kelly, director, TI's Design Network. "The combination of BeagleBone and Windows Embedded Compact will ease the development of new innovative intelligent embedded systems for community members and OEMs alike,"
"Adeneo Embedded's support for the Windows Embedded Compact platform on the BeagleBone community board opens new opportunities for better innovation across the device development cycle, giving customers greater ability to create optimized devices to power intelligent systems for the enterprise," said Lorraine Bardeen, marketing director for Windows Embedded EMEA at Microsoft.
OEMs interested in using these technologies for their devices can discuss further support options available by contacting our sales team at
sales@adeneo-embedded.com
. Windows Embedded Compact 7 reference BSP for BeagleBone is available on Adeneo Embedded website:
http://www.adeneo-embedded.com
.
Adeneo Embedded provides system integration, design, support and training services to companies seeking world-class expertise in embedded solutions using high-performance architectures. For over 10 years, Adeneo Embedded has helped clients, in all stages of development; create profitable, feature-rich products that incorporate software and hardware solutions based on Windows Embedded, Windows Phone or .NET Micro Framework operating systems. Close working partnerships with industry-leading silicon and software vendors allow Adeneo Embedded to apply its experience to a wide range of embedded solutions for the automotive, industrial, medical,

multi-media, navigation,

networking, mobile and wireless markets. Adeneo Embedded has a global sales and support network backed by engineering offices in North America and Europe.
About the Texas Instruments Design Network
Adeneo Embedded is a platinum member of the TI Design Network, a premier group of independent, well-established companies that offer products and system-level design and manufacturing services complementing TI's semiconductors to a worldwide customer base to accelerate product innovation and time-to-market. Network members provide product design, hardware and software system integration, turnkey product design, RF and processor system modules, reference platforms, software development, proof-of-concept design, feasibility studies, research, certification compliance, prototyping, manufacturing, and product life cycle management. For more information about the TI Design Network, please visit
http://www.ti.com/designnetwork
.
OMAP, Sitara and DaVinci are trademarks of Texas Instruments.

All other trademarks and registered trademarks belong to their respective owners.
© 2012 Adeneo Embedded. All Rights Reserved. All other brands or product names are the property of their respective holders
For more information about Adeneo Embedded competences, products and services around Windows Embedded technologies:
Executive Assistant, Adeneo Embedded (EU)
Office Manager, Adeneo Embedded (USA)
- Nicolas